Ultrasound & Electric Muscle Stim in Bridgewater, NJ
Reduce Inflammation, Improve Circulation, and Accelerate Healing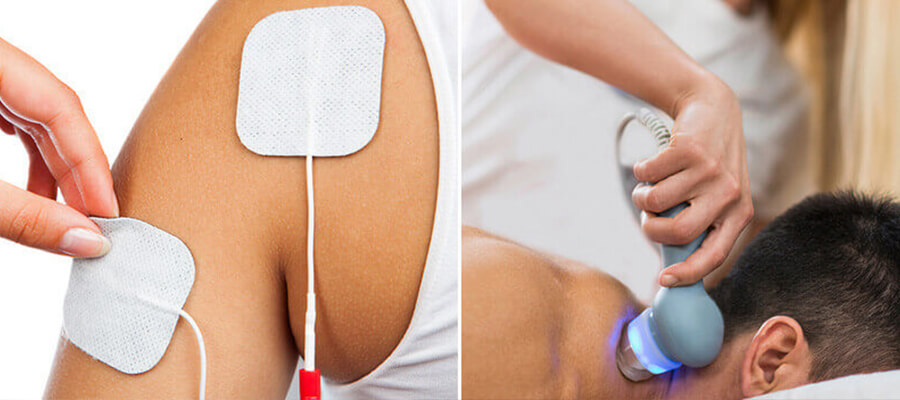 Electric Muscle Stimulation Provides Pain Relief by Reducing Inflammation to Damaged Tissue
McAdam Chiropractic provides electrical muscle stimulation to patients in Bridgewater, New Jersey and surrounding areas. Electric muscle stimulation is a physical rehabilitation therapy modality that is used to stimulate muscle contractions using electrodes hooked up to an electric stimulation machine. These contractions help to control pain, manage inflammation and strengthen the muscle.
The electrodes are placed on the affected areas of the patient's body around the neck, back, shoulder, knee, ankle or wrist. The therapist will then adjust the controls of the machine until the patient feels a prickly sensation and is able to comfortably target the level of stim without burning, stinging or feeling a stabbing sensation. The stimulation will increase circulation and reduce swelling thereby reducing pain sensations.
Ultrasound Therapy
Ultrasound therapy helps to reduce muscle pain and movement dysfunction. Sound waves deliver deep heat to the areas of the body that need treatment. As a result of the sound waves, the patient benefits from reduced stiffness, swelling and pain. Increased circulation and the promotion of pain free movement are positive effects of using ultrasound therapy.
Following ultrasound, our chiropractors may provide gentle chiropractic adjustments, massage therapy, stretching routines and rehabilitative exercises.
Call our Bridgewater Chiropractic Clinic at (908) 218-0800 or

Contact Us

to Schedule Your Next Appointment.  Most insurance is accepted and we are conveniently located at 794 U.S. 202- 206 N, Bridgewater, NJ 08807.
Contact Us
Office Location
794 U.S. 202- 206 N
Bridgewater, NJ 08807
(908) 218-0800
Office Hours
By Appointment Only
(hours may vary)
Mon: 8–11:30 & 2-6:30
Tues: closed
Wed: 8–11:30 & 2-6:30
Thurs: 2-6:30
Fri: 8–11:30 & 2-5:30
Sat & Sun: closed
*24 Hour Cancellation Required to Avoid Applicable Charges